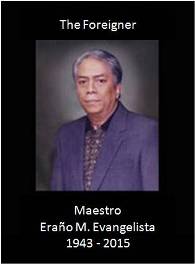 ---
The Revelation of the Foreigner as mentioned by King Solomon in:
"As for the foreigner who does not belong to your people Israel but has come from a distant land because of your name— for they will hear of your great name and your mighty hand and your outstretched arm—when he comes and pray toward this temple, then hear from heaven, your dwelling place. Do whatever the foreigner asks of you, so that all the peoples of the earth may know your name and fear you, as do your own people Israel, and may know that this house I have built bears your Name."
I Kings 8:41-43 (NIV)
---
Maestro Eraño M. Evangelista was only sent to deliver God's Message to all people; he is not starting a new religion, nor asking for any kind of donation. Please find time to read the messages completely.
---
View the visitors from around the world:
Click on the Revolving Map to view it entirely.
Since May 13, 2011
If for some reason that you cannot see the map in the link page, simply download the latest Java plug-in for your browser. Click here to install the latest version of Java.
---
---
Read the prophecies in your own language by linking to the BibleGateway.com website:

(Right click on the image and select "Open link in new window.")
---